Amazing Features You Didn't Know About the New Creality Cloud


Seguir
Hello, 3D printing hobbyists! Creality Cloud - The All-in-one 3D printing platform has recently added a host of exciting new features. If you're interested in learning more, keep reading for all the details.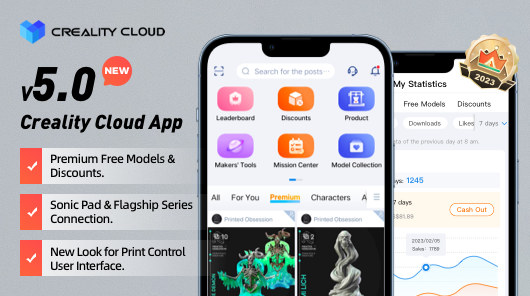 Creality Cloud has recently launched version 5.0 of its all-in-one 3D printing platform, introducing a range of new features to enhance the user experience. Among the highlights of this update is the Creality Sonic Pad support, new badge system, exclusive benefits for Premium members, and more! To learn more about these exciting new updates, visit: Creality Cloud V5.0: New Features to Enhance Your 3D Printing Experience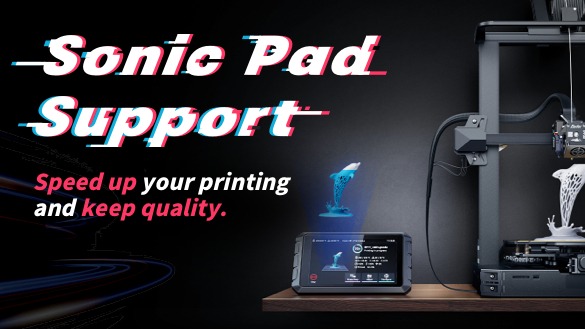 If you're a proud owner of the Sonic Pad, then you'll be happy to know that the Creality Cloud system has been fully integrated into it. To take advantage of this new feature, you'll need to set up your Sonic Pad correctly. Luckily, the process is straightforward, and you can find a detailed guide on how to do it at the following link: How to connect Sonic Pad on Creality Cloud.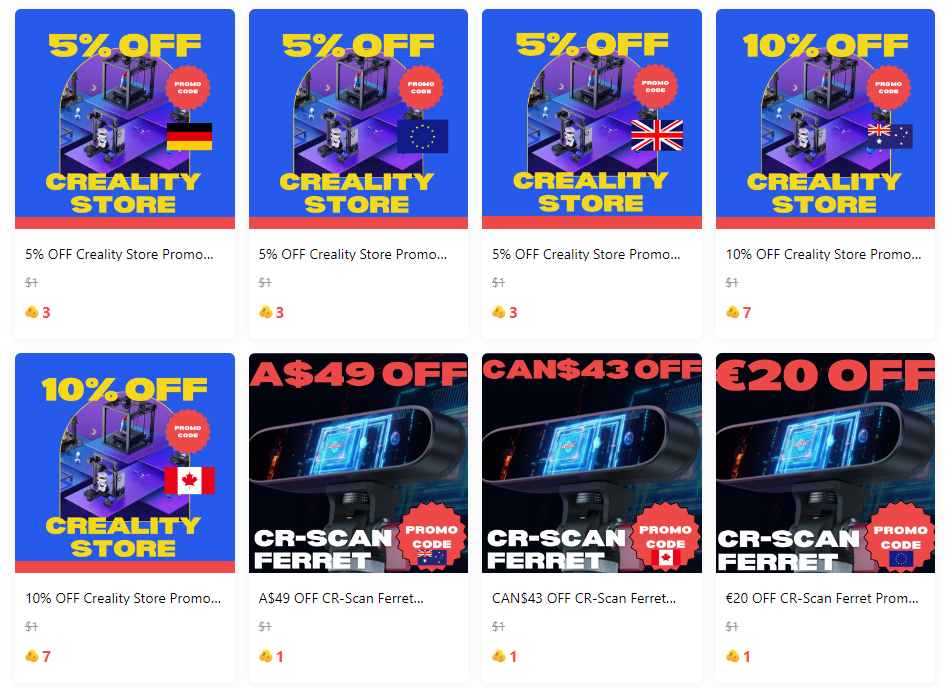 New promo code now available on Creality Cloud's Gift Shop for users to enjoy a 10% discount on all products (including 3D printers, consumables, accessories, scanners, etc.) at Creality Store. Also, customers in the UK, US, EU, Canada, and Australia can now redeem a special discount code for purchase of CR-Scan Ferret 3D scanner on the Creality Cloud Gift Shop. What's more, Ender-PLA 3D printer filament has been added to the Creality Cloud Gift Shop, available for redemption with cuvacoins. Leanr more: Gift shop - Creality Cloud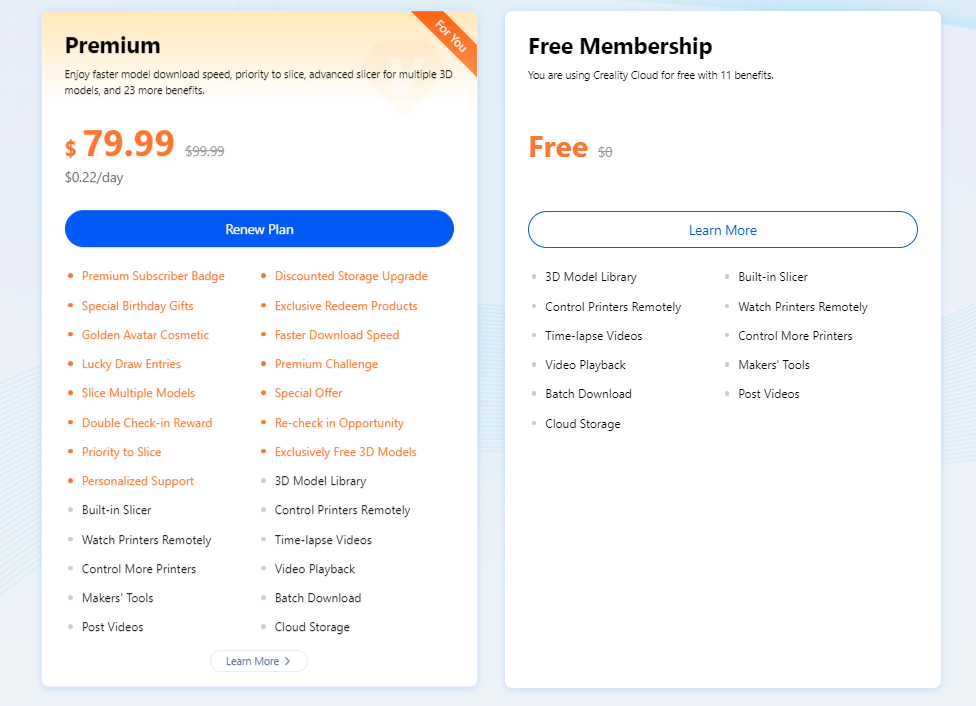 Creality Cloud recently announce the newest features of its premium service. As a premium user, you will have access to a variety of new benefits and exclusive perks, including but not limited to:
● Slice 3D Models with Priority
● Faster Model Donwload Speed
● Control up to 20 Printers
● Special Birthday Gifts
● Exclusive Products and Discounts from the Gift Shop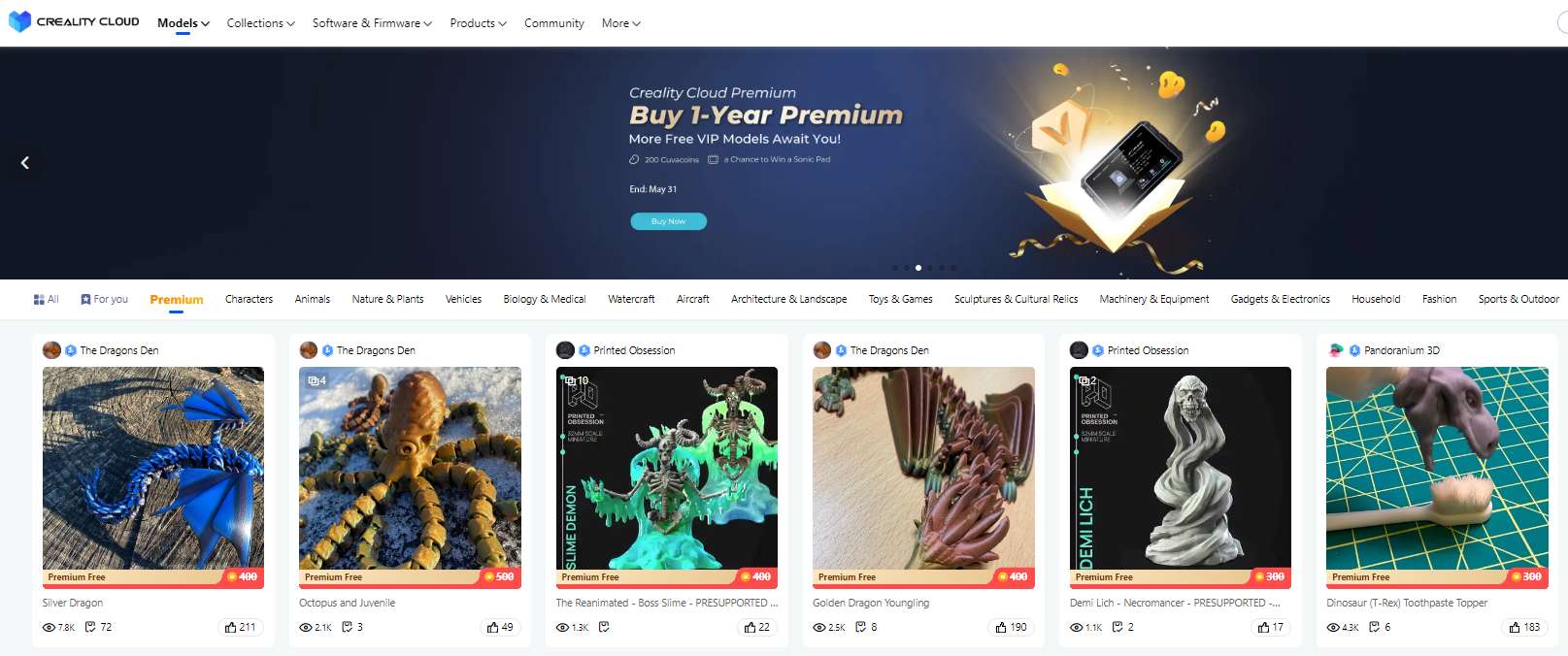 Also, Premium subscribers can enjoy an exclusive selection of top-notch 3D models that you can download and use for free. Whether you're a hobbyist or a professional, this collection of high-quality models is sure to provide you with endless inspiration and help you take your 3D printing projects to the next level. Check it out here.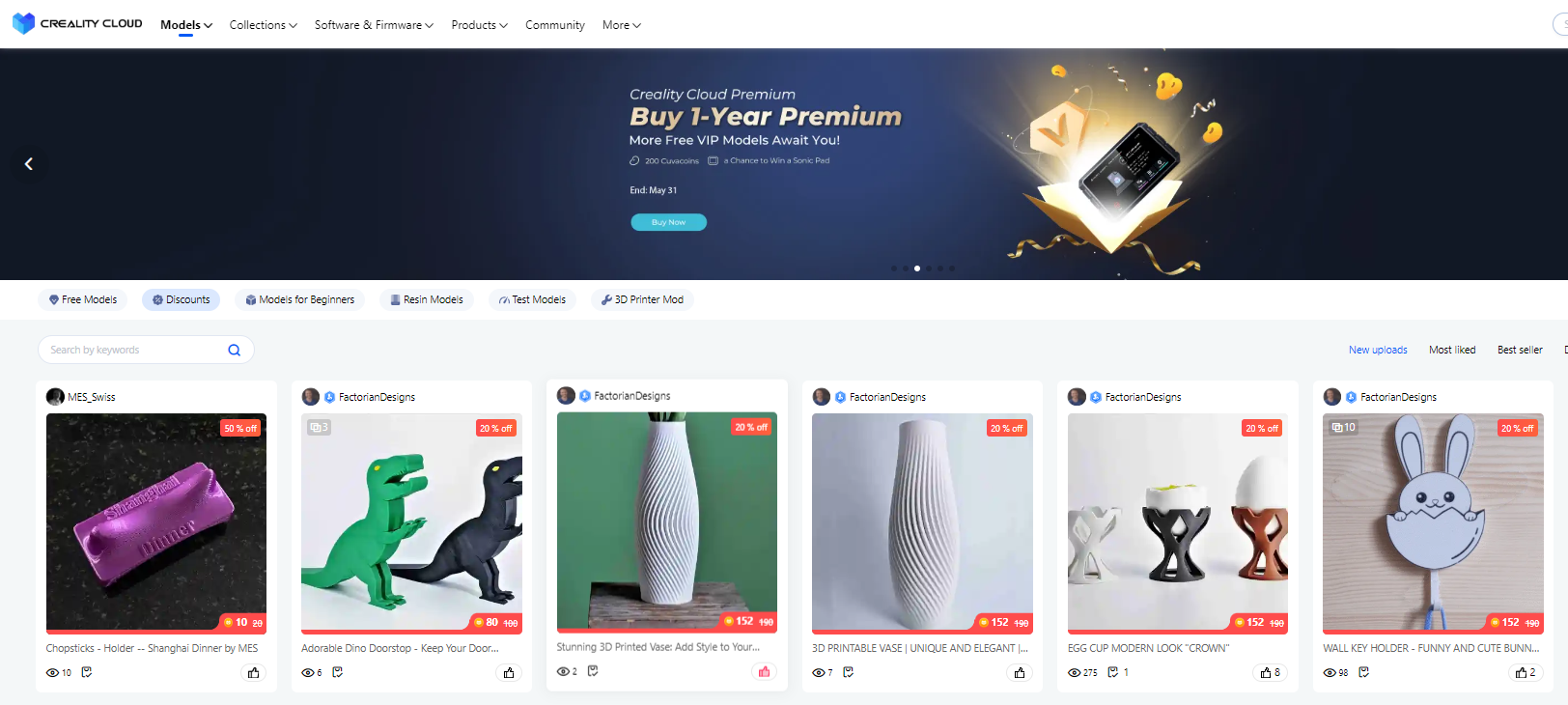 We're excited to announce the launch of our new dedicated space for 3D models on sale! Whether you're a seasoned 3D printing enthusiast or just starting, this is the perfect opportunity to expand your collection of 3D designs while saving money. With a wide selection of high-quality 3D models available at discounted prices, you're sure to find something that catches your eye. Head over to our dedicated space for 3D models on sale and start exploring today.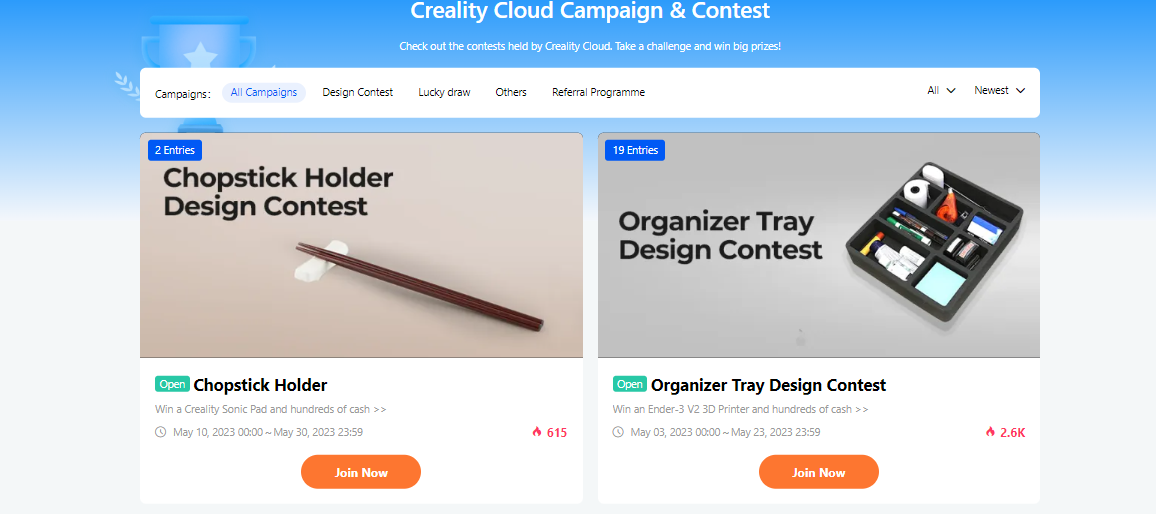 Throughout this year, we will host a range of 3D printing contests and activities that offer users the chance to win a variety of prizes. These contests include everything from design challenges to product reviews, and the prizes on offer can include 3D printers, cash incentives, and consumables such as filaments and resin. We believe that these rewards help to incentivize creativity and innovation, while also providing a fun and engaging way for users to interact with our products and services. Join the ongoing contest here: All campaigns and contest on Creality Cloud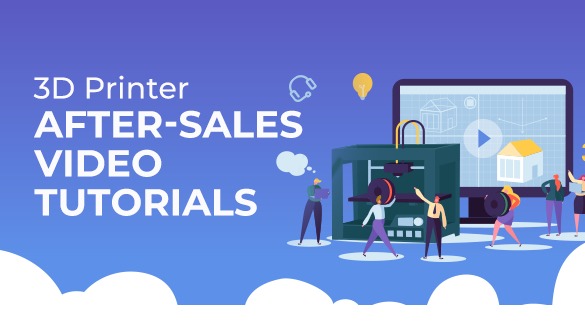 We provide after-sales video tutorials to help you use and maintain your Creality 3D printer. Our tutorials cover the CR series, Ender series, Sermoon series, Resin printers and their accessories. The videos explain features, functions, and troubleshooting. We will add tutorials for more printers and accessories over time. Check back for more tutorials. Our aim is to equip you with the knowledge needed to maximize your Creality products. Find the video you may need here: 3D Printer After-sales Video Tutorials
Thank you for reading about the exciting new features of Creality Cloud - The All-in-one 3D printing platform. We hope that you're as excited about these updates as we are, and that they enhance your 3D printing experience. Don't forget to download the Creality Cloud app on your iOS or Android device to take advantage of all the platform has to offer.
For the iOS version of the Creality Cloud app, click here.
For the Android version of the Creality Cloud app, click here.
Top Creality 3D Printer Deals on Amazon