[WINNERS ANNOUNCED] New Badges Join the Creality Cloud Badge System! Feat. SPECIAL GIVEAWAY


Seguir
Update as of June 2, 2023
Hello everyone! 🥳
We are thrilled to announce the winners of our recent giveaway to celebrate the launch of our new badges! 🎊 We have had an amazing response, and we'd like to thank everyone who participated. 🙌
Now, without further ado, let's reveal the lucky winners and their corresponding prizes: 🏆
🔸 LV.1 Badge Holder Prize: Ender-PLA Filament 250g 1.75mm (Red)
Winner: [@Oscar Zepeda]
🔸 LV.2 Badge Holder Prize: MK8 Nozzles Kit 24 PCS
Winner: [@user5805580922]
🔸 LV.3 Badge Holder Prize: CR-PETG Filament 1.0kg 1.75mm WHITE
Winner: [@user5175363103]
🔸 LV.4 Badge Holder Prize: 3D Digital Spool Rack-S (Single)
Winner: [@user3878364470]
🔸 LV.5+ Badge Holder Prize: Creality Filament Dry Box
Winner: [@MaM]
Due to there being only one LV.5+ Model Hunter Badge holder by the end of the giveaway, this lucky user will automatically receive the Creality Filament Dry Box prize! 🌟
Congratulations to all our winners! 🎉 Please contact us via teamcloud@creality.com with your shipping information and screenshot of your Creality Cloud profile page so we can send out your prizes as soon as possible. 📦
For those who didn't win this time, don't be disheartened! We have more exciting events and giveaways planned for the future, so stay tuned. 🌟
Once again, thank you all for your participation and support. Happy printing! 🖨️
We'd also like to remind our winners of an important note: ⚠️
Please make sure to claim your prize by contacting us within 7 working days. If we don't hear from you within this timeframe, we will unfortunately consider your prize forfeited and it will not be re-issued. ⌛
__________________________________
Exciting news for Creality Cloud users! The Badge System has just introduced three new badges for users to collect: the Fan Badge (for consecutive check-ins), the Printaholic Badge (for printing models), and the Model Hunter Badge (for purchasing models). Let's dive into the details of each badge and how you can unlock them!
Fan Badge: Celebrate Your Consecutive Check-ins
The Fan Badge is designed not only to reward users for their consecutive check-ins on Creality Cloud but also to encourage consistency and dedication within the platform. With five different levels to achieve, users can unlock this badge by checking in for 3, 7, 30, 60, and 100 consecutive days. Each level represents a new milestone and reflects the user's growing commitment to their 3D printing journey.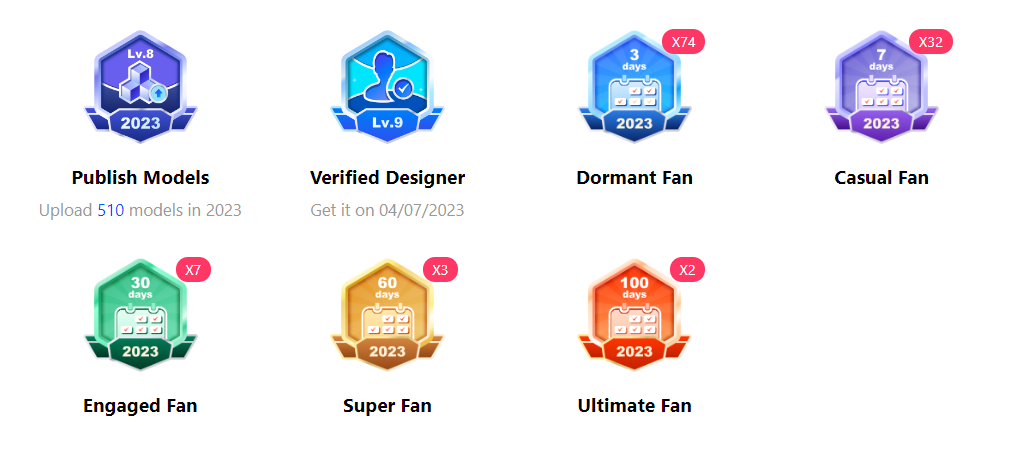 The best part? This badge is stackable, providing even more motivation for users to maintain their check-in streaks! For example, if you check-in for three consecutive days, miss a day, and then check-in for another three consecutive days, your Dormant Fan Badge (representing three consecutive check-ins) will display a "x2" in the top-right corner to indicate the two separate achievements. This stacking feature encourages users to continue striving for longer streaks while still acknowledging their previous accomplishments.
Printaholic Badge: Record and Encourage Your Printing Activities
The Printaholic Badge is all about inspiring users to make the most of Creality Cloud's slicing and printing features. With a total of 8 levels to unlock, reaching the highest tier requires a whopping 2,000 prints! As you grow your printing skills, this badge will serve as a testament to your dedication and passion for 3D printing.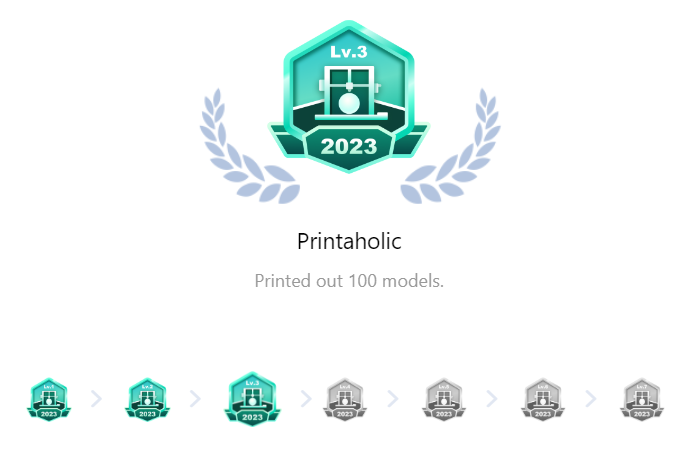 This badge fosters friendly competition and camaraderie within the Creality Cloud community, encouraging users to hone their skills and explore new techniques. As users progress through the levels, they take on complex projects and experiment with new materials.
The Printaholic Badge not only highlights your personal milestones but also inspires others to delve into their own 3D printing journeys, fostering creativity, innovation, and collaboration within the community.
Model Hunter Badge: Show Your Support for Original 3D Designs
The Model Hunter Badge is more than just a symbol of your commitment to supporting original 3D designs on Creality Cloud; it's a badge of honor that represents your active role in fostering a thriving ecosystem for creators and designers. By purchasing models on the platform, you contribute to the success of talented individuals who pour their heart and soul into each unique design.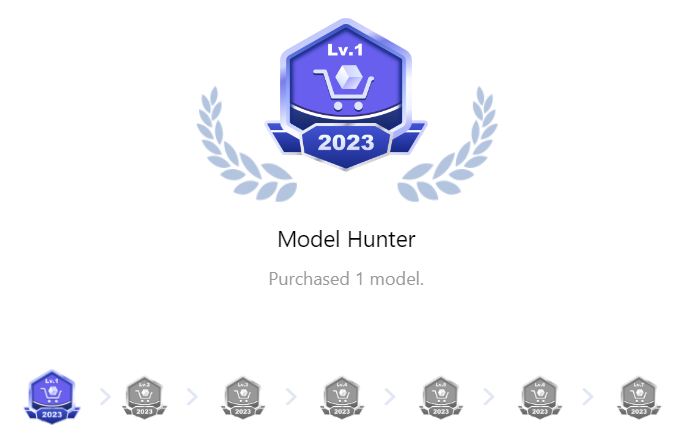 Earning this badge is as simple as buying just one model (each purchase must cost no less than 100 credits), but its impact goes far beyond that single purchase. As you accumulate more Model Hunter Badges, you'll not only showcase your appreciation for the creativity and hard work behind each design, but also inspire others in the community to follow in your footsteps. This creates a positive feedback loop that benefits both the designers and the 3D printing enthusiasts as a whole.
Furthermore, the Model Hunter Badge serves as a conversation starter within the community. By displaying this badge on your profile, you open the doors to discussions about your favorite designs, the designers you admire, and the trends you've noticed in the world of 3D printing. These interactions can lead to valuable connections, knowledge-sharing, and the discovery of new models to add to your collection.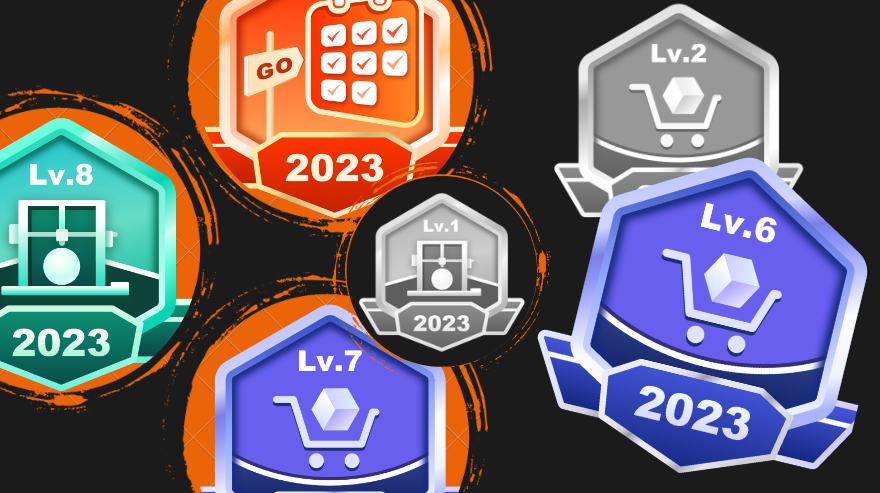 In conclusion, the Creality Cloud Badge System continues to expand, offering users even more ways to engage with the platform and celebrate their accomplishments. With the introduction of the Fan Badge, Printaholic Badge, and Model Hunter Badge, users have new goals to strive for and achievements to showcase. Happy badge hunting!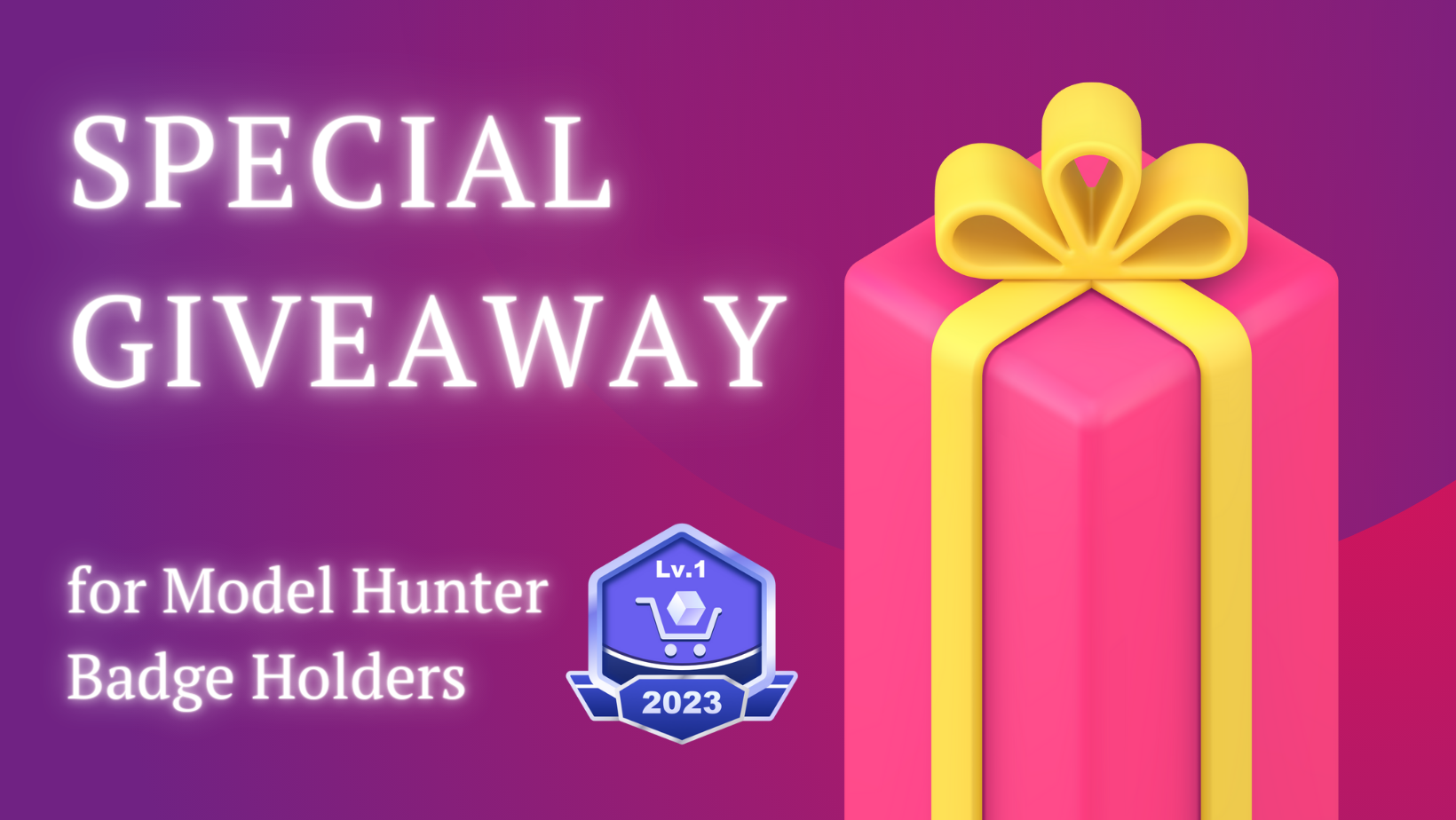 To celebrate the launch of our new badges, we are hosting a special giveaway with a wide array of fantastic prizes, including:
- Ender-PLA Filament 250g 1.75mm (Red) for LV.1 Badge Holder
- MK8 Nozzles Kit 24 PCS for LV.2 Badge Holder
- CR-PETG Filament 1.0kg 1.75mm WHITE for LV.3 Badge Holder
- 3D Digital Spool Rack-S (Single) for LV.4 Badge Holder
- Creality Filament Dry Box for LV.5+ Badge Holder
This giveaway is exclusively for Model Hunter badge holders. Holders of different badge levels are eligible to participate in the corresponding level prize draws, as shown in the chart below. The higher your badge level, the more chances you have to win. For example, if you hold a Level 4 Model Hunter badge, you are eligible to participate in the prize draws for Levels 1, 2, 3, and 4! What's more, since the Model Hunter Badge has just been launched, it means that the higher the badge level, the fewer the holders, and the greater your chances of winning!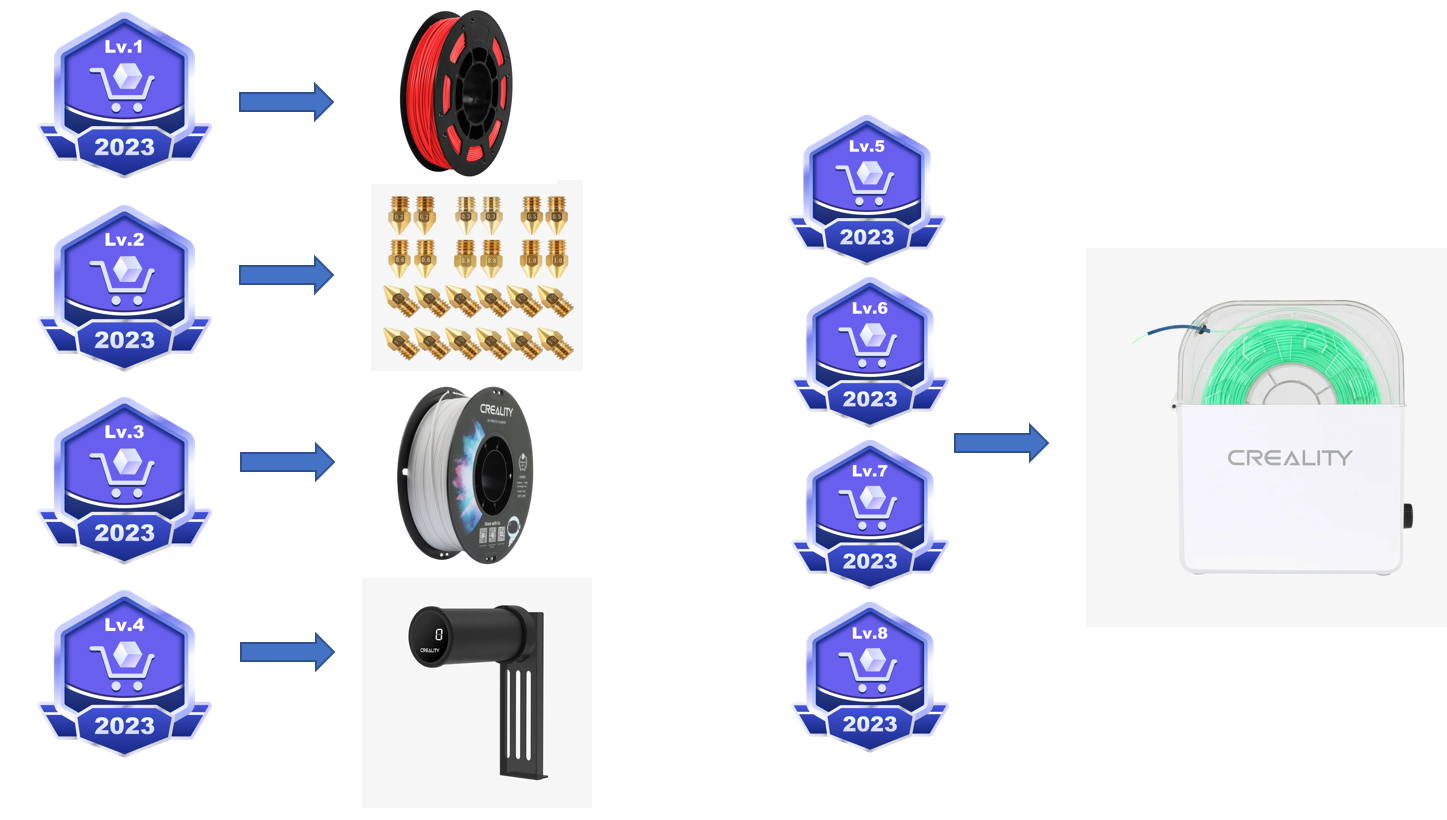 Don't worry if you don't have this badge yet - you can still join the giveaway as long as you obtain the Model Hunter badge before May 31, 2023. All eligible users will be automatically entered into our giveaway system. The drawing will be recorded on video and the winners will be announced on June 2, 2023. There will be only one winner drawn for each prize level.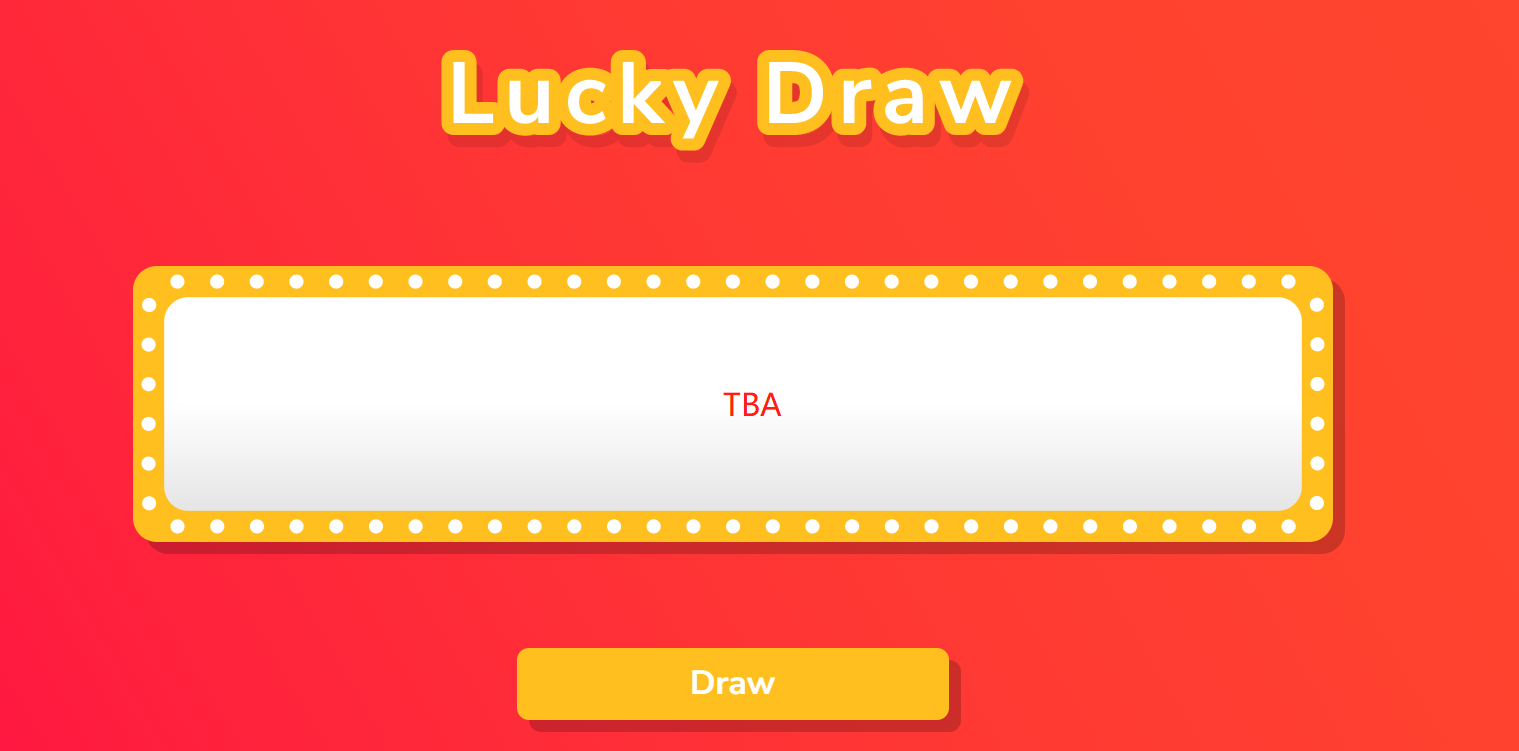 Good luck & have fun!
Trending Creality 3D Printers Deals on Amazon