Making Time-lapse Video on Creality Cloud
Hello 3D hobbyists,
Wish you are all doing well!
3D printing is a time-consuming process, but it's still worthwhile to watch. However, this mesmerizing process always takes ages. Based on this fact, we believed that many of you would like to see your 3D printer print an 8-hour long object in a matter of seconds, and we heard that many of you prefer to add this function to Creality Cloud App. As expected, we make it possible to make a time-lapse video on the App with the release of V3.11.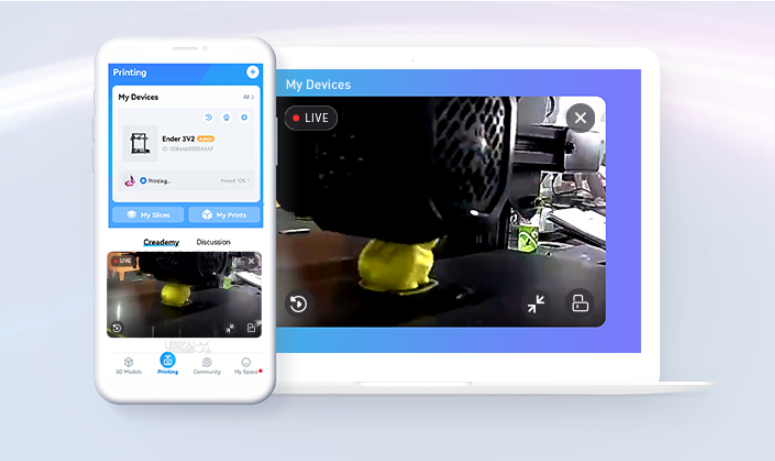 Today, let's discover how to make an incredible time-lapse video on Creality Cloud.
What Is A Time-lapse Video
A time-lapse video is a collection of images or video recorded at a slower rate than the average, resulting in a faster passage of time on playback.
If you are recording a normal video of your 3D printer creating an object with your phone, you will need to leave it recording for 12 consecutive hours to capture everything, and then you will get a 12-hour long video. With time-lapse technology, it will be the same as recording a video, except frames will be taken at a slower speed, condensing long-time print into mesmerizing dozens of seconds of film.
Now that you know what time-lapse video is, let's get on with how you can make a time-lapse video on Creality Cloud step by step.
How to Make Time-lapse Video
1. Prepare Everything You Need
In order to make a time-lapse video on Creality Cloud, you don't need a lot of equipment. A Creality web camera and some basic equipment can be everything you need to make a 3D printer time-lapse video. Here comes the needed equipment list: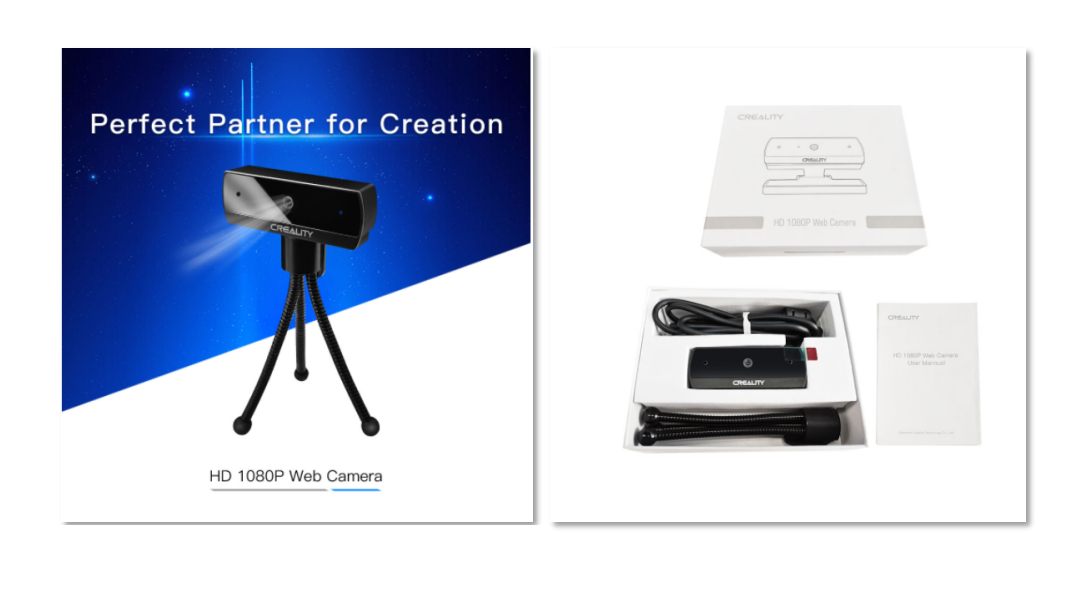 1. A 3D Printer
3. A Creality Wi-Fi box ( To connect with the camera. If your 3D printer comes with a built-in Wi-Fi, then the Wi-Fi box is not necessarily needed.)
2. Connect the Web Camera with Wi-Fi Box or 3D Printer
Power on your device (including your 3D printer and Wi-Fi Box) > Connect your Creality web camera with Wi-Fi Box through a USB cable.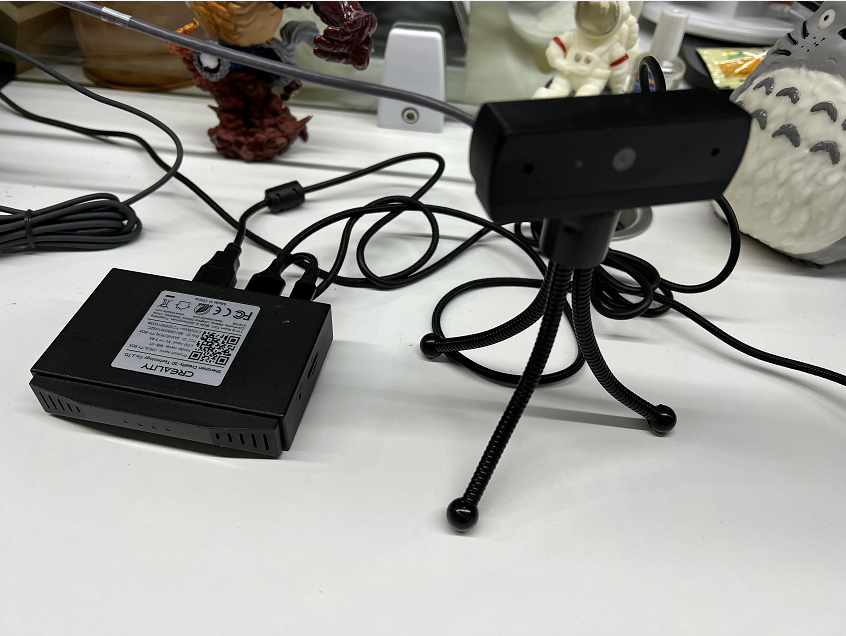 If your 3D printer comes with a built-in Wi-Fi, then you can directly connect the web camera with the Printer.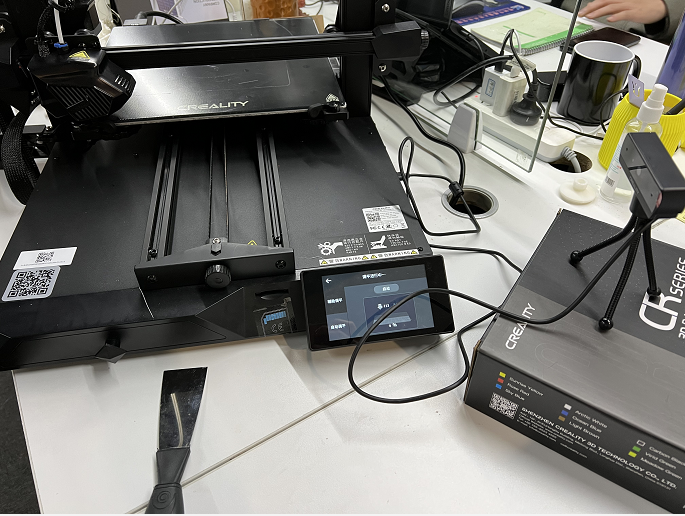 Open Creality Cloud App, navigate to "Printing" > add your device (scan the QR code on Wi-Fi Box) and make it online > Click the camera icon, then the video screen will automatically show up.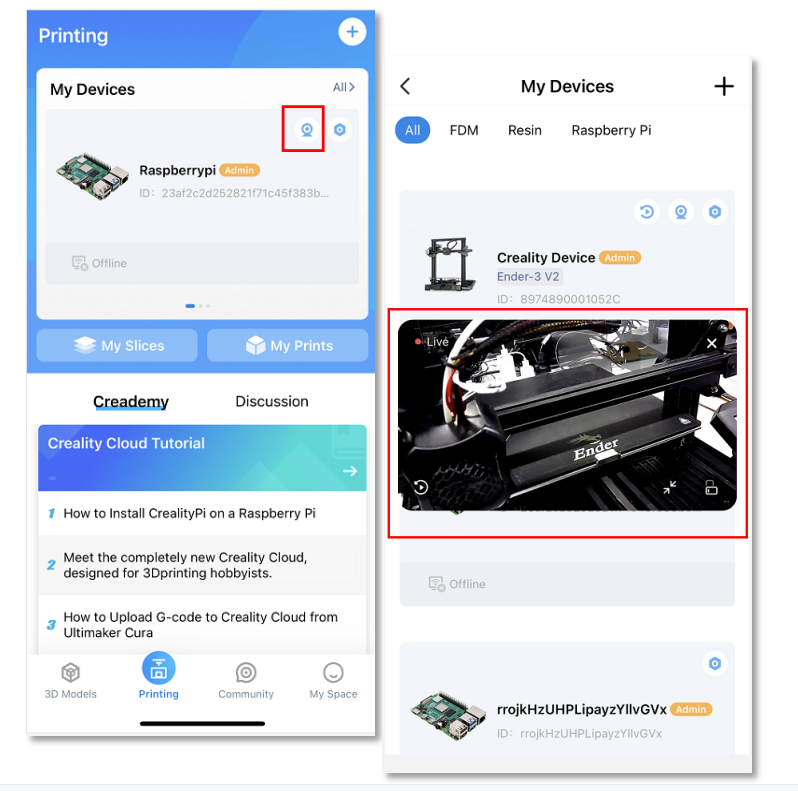 If you didn't connect the camera with the devices such as the Wi-Fi box and the 3D printer, or you do not have a web camera, you will get a prompt as the following picture shows when you click the camera icon.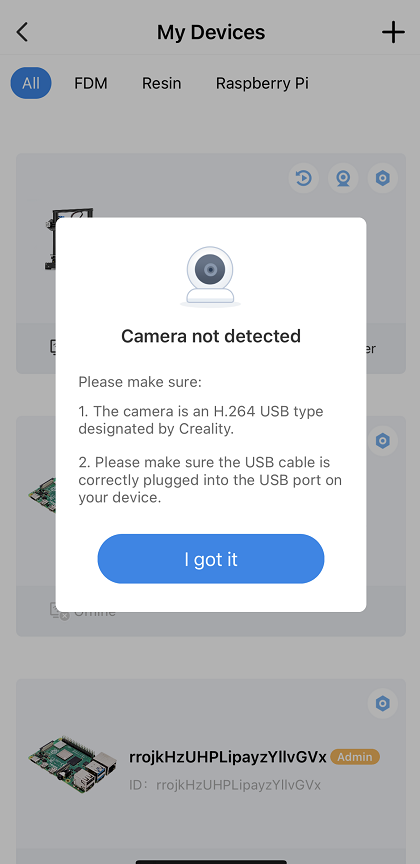 3. Make A Time-lapse Video in App
After everything is all set, choose a model to slice and start printing it in the App. The printer and the camera will accordingly perform their duties to create a 3D object. A time-lapse video will be automatically saved under the condition of a successful printing.
4. Where Can You Find Your Time-lapse Video
About 20 minutes after the printing is finished, open Creality Cloud App, go to "My Space" > "Time-Lapses". You will find your time-lapse video there.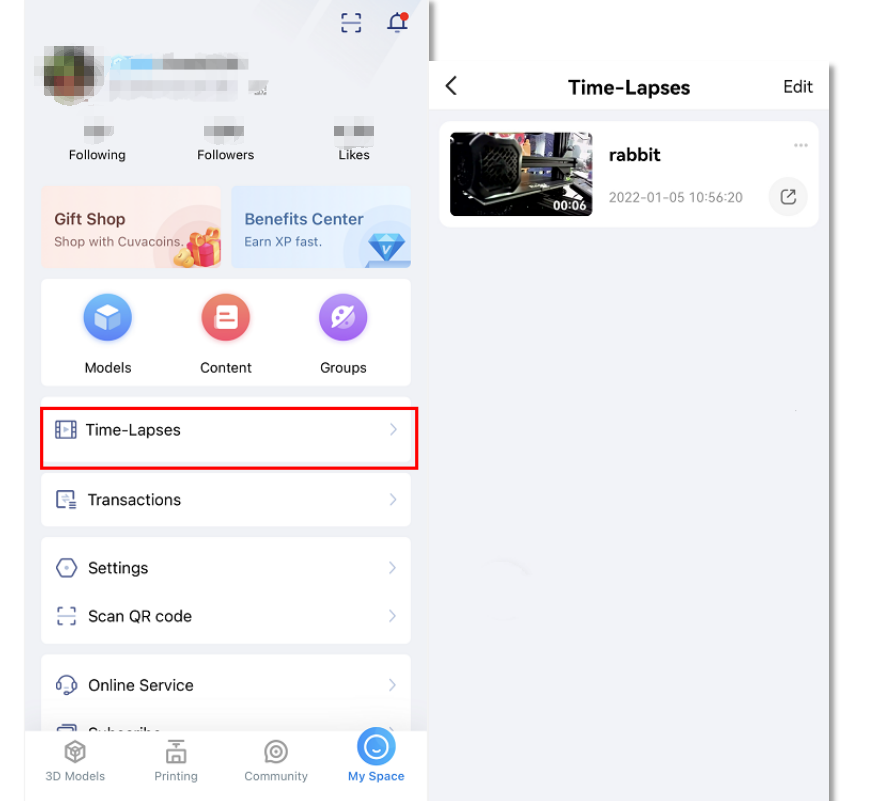 Things to Bear in Mind
1. There are some important notes for you to keep in mind before generating a time-lapse video. Please make sure:
1.1. The camera is at normal working status.
1.2. The firmware version of the Wi-Fi Box is V1.03b38 or above.
1.3. The version of the Creality Cloud App is V3.11.0 or above.
1.4. Use the App to perform 3D printing instead of an SD card.
2. A time-lapse video may not be generated when the following situations occur.
2.1. The printing is paused.
2.2. The printing is terminated.
2.3 The printing ends due to abnormal situations occurring.
3. The time-lapse video does not present sound. It only focuses on presenting wonderful 3D films.
4. The time-lapse video generated from the App supports link sharing with your friends.
5. To protect your rights and privacy, a time-lapse video will not be shared when sharing a device. Only the author can allow others to watch or download his/her time-lapse video by link sharing.
If you become inspired after reading, go and make your own 3D printer time-lapse video. They're a treat for the eye!
Happy Printing!
By Creality Cloud.