How To Update or Setup Firmwar
Follow
Recently i bought an Ender 3 Pro for my work, and i already have an Ender 3 With an Creality V1.1.4 Motherboard (ye-s, so outdated). After some 2 years using the same motherboard and NO FIRMWARE UPDATE, it caught on fire close to the Y Driver, so i needed to buy a new motherboard, so i bought the Creality V4.2.7 MotherBoard with silent drivers for the Ender 3.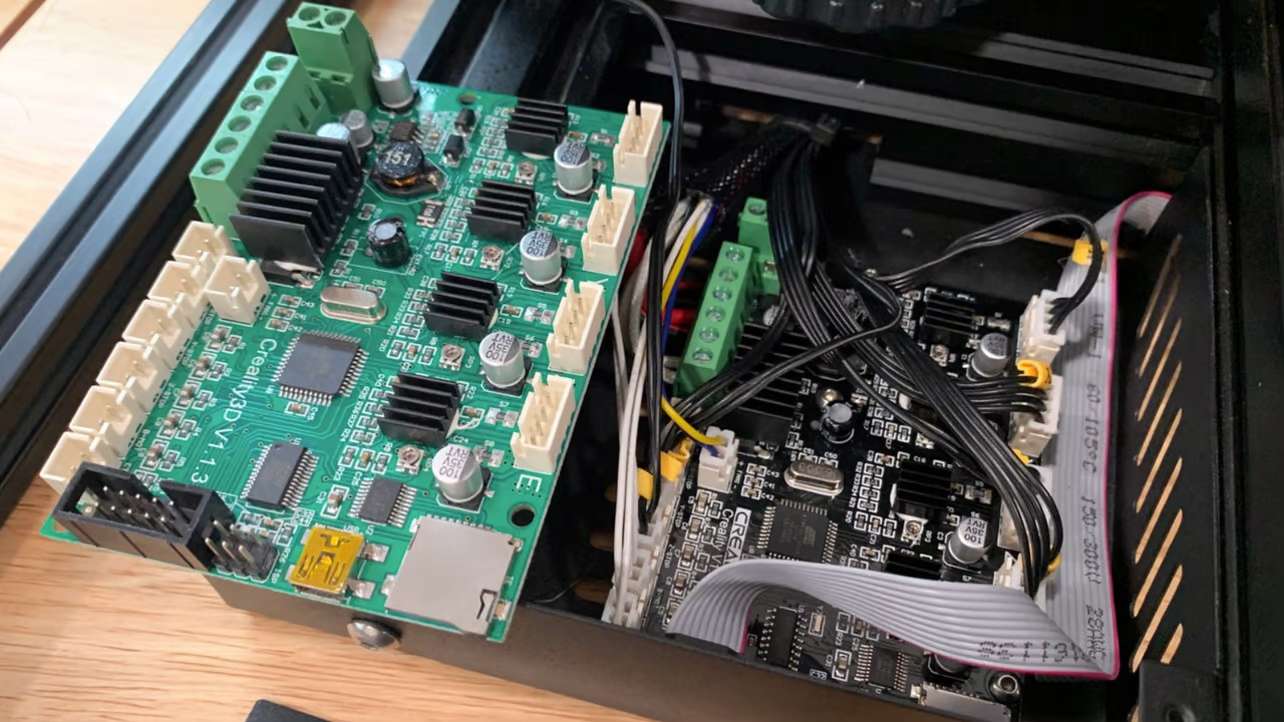 (this image is not mine, it's just to represent)
When i got my Ender 3 Pro i find out that the firmware was outdated too, and was having some trouble with the layers on my prints, so i started searching about how to update the firmware on it, but i still didn't looked the version of my motherboard, just went to update it, and i just made a mess, i downloaded the wrong firmware and uploaded to the printed (I almost didn't know what i'm doing still), my Ender 3 Pro was with the Ender 3 Firmware with an add-on, and when i selected to auto home the printer just can't move, and gave me a halted error.
So i had went trough some pain to update my 3D printer firmware, so i started studying about how the different motherboards upgrade their firmware, at first i was thinking that my Ender 3 Pro had an V 1.X.X motherboard because i needed to buy an update one for my Ender 3, so i thought that was the same thing on my Ender 3 Pro, mainly because of the noise of the drivers.
The situation changed when i had an idea to take the motherboard that i bought (V4.2.7) and put on my Ender 3 Pro and Change the Firmware.
When you buy The new motherboard from creality (V4.2.7) it comes with an manual with all the connection on the front and on the back it shows ALL the boards of creality and the printers that is compatible. So all the situation changes, and i started to open my printers and find out that the motherboard that came with my Ender 3 Pro was the V4.2.2, and was 100% compatible with both of my printers, same with the one that i bought.
At the end i changed both of the motherboards firmware's that i desire and both i working just fine!
1- The different types of motherboards and their procedures to udate firmware
The creality motherboards are divided by V1.X.X and V4.X.X boards, the first one is 8 bit board and the other is 32 bit board and this makes big difference to update them.
V1.X.X/ 8 bit boards can just be update by using direct USB connection or configuring with progisp program, it way harder to configure, and it wasn't my case.
V4.X.X/ 32bit boards can be update simply formatting the SD Card and downloading correct .bit file on Creality's website that soon i'll link it, and finally put in your printer and wait about 10 seconds, and this article is here to help you how to update this boards firmware's.
2- Starting Checking stuff
finally here's how to update the V4.X.X firmware boards.
At first you need to check what Motherboard you printer is running, so the way you can check is just opening the motherboard case and
on the top you can see the Creality Logo and next to it you can see the version of your board.
Another way you can check it too is the color of the board, newest Creality's motherboards are Black, and olders ones are green color: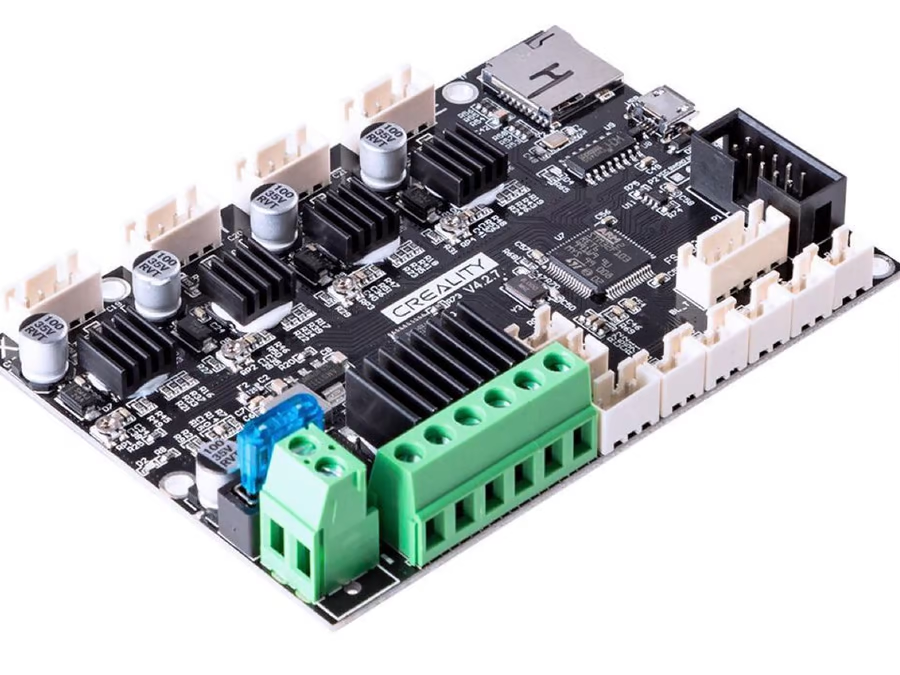 V4.2.7 Board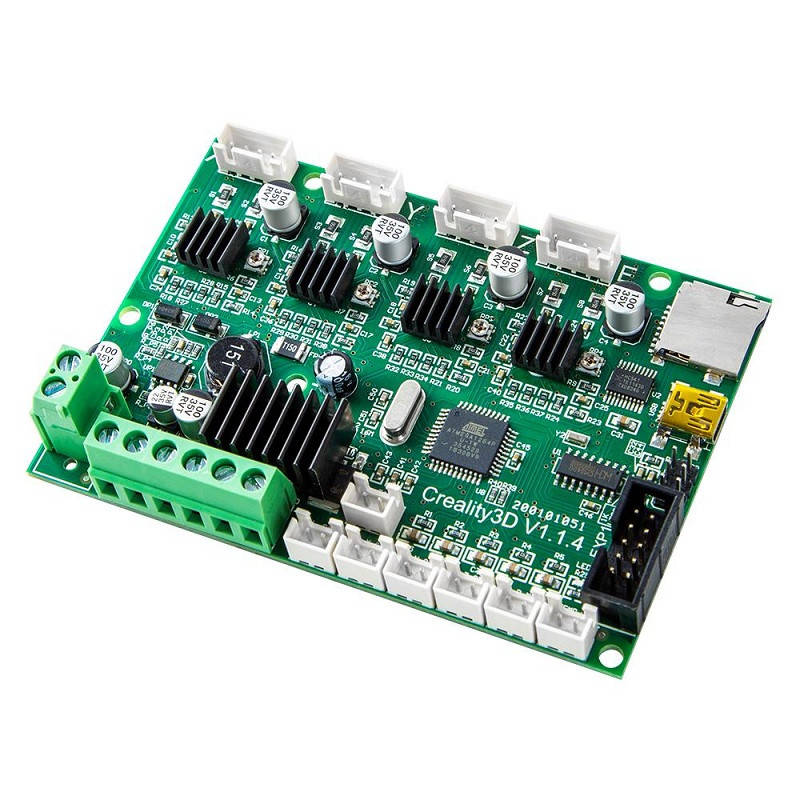 Creality V1.1.4 Board
Next you need to check in the manual info if your printer is compatible(if you are changing the motherboard like i did)
Here's Creality manual that comes with the V4.X.X boards.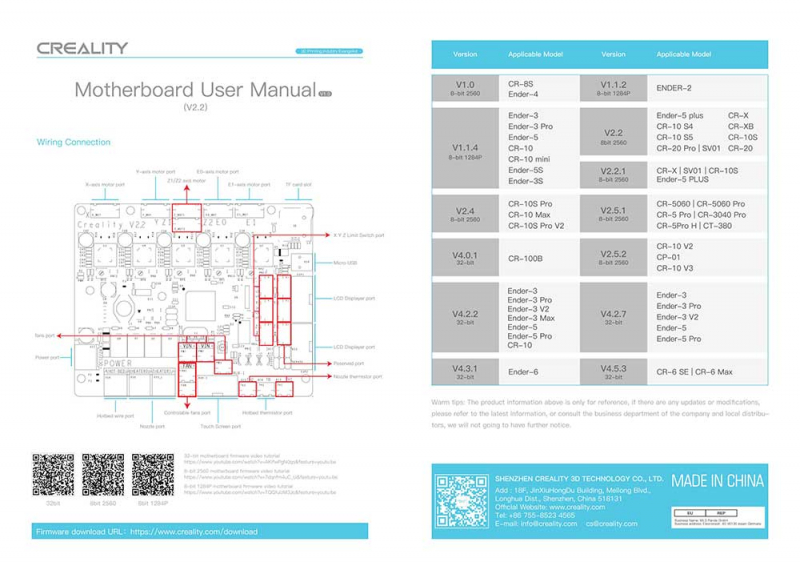 As i mentioned, the 32 .bit boards you can just download the correct .bin file on creality's website.
Here's The creality site to download all the firmwares
Here's the path how to look the correct firmware for you printer:
2.1- Select Ender Series firmware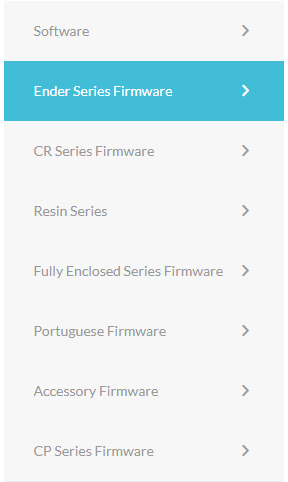 2.2- Select your printer of your desire: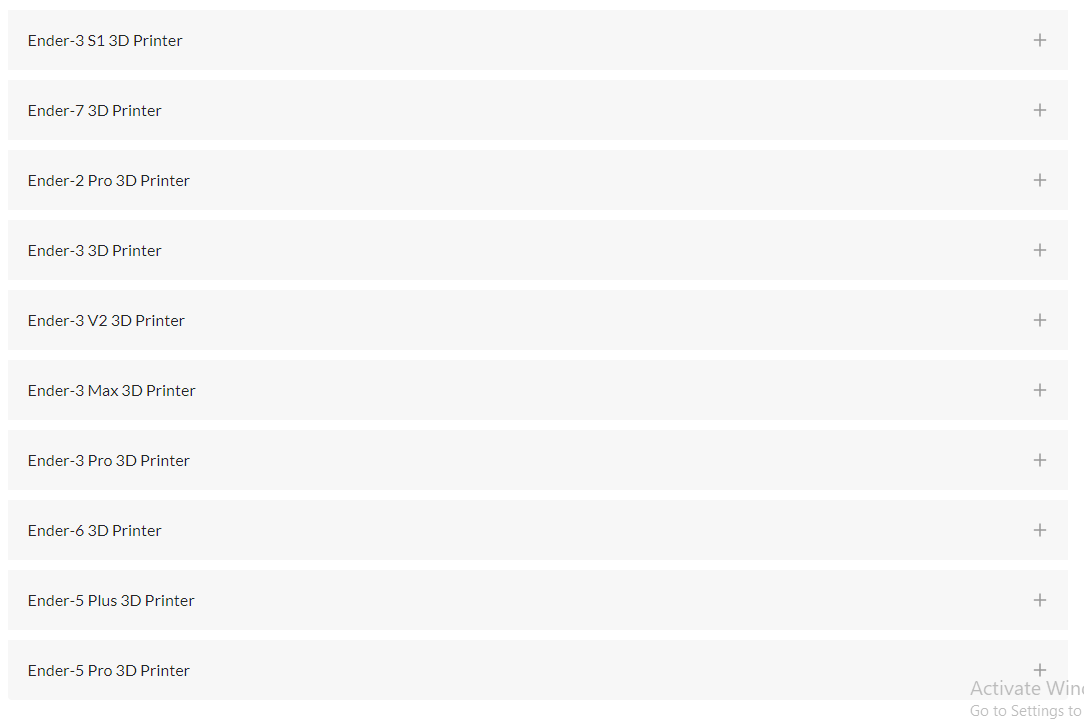 Mine is Ender 3 Pro so i selected it and will open all related firmware:
2.3- Choose the correct firmware: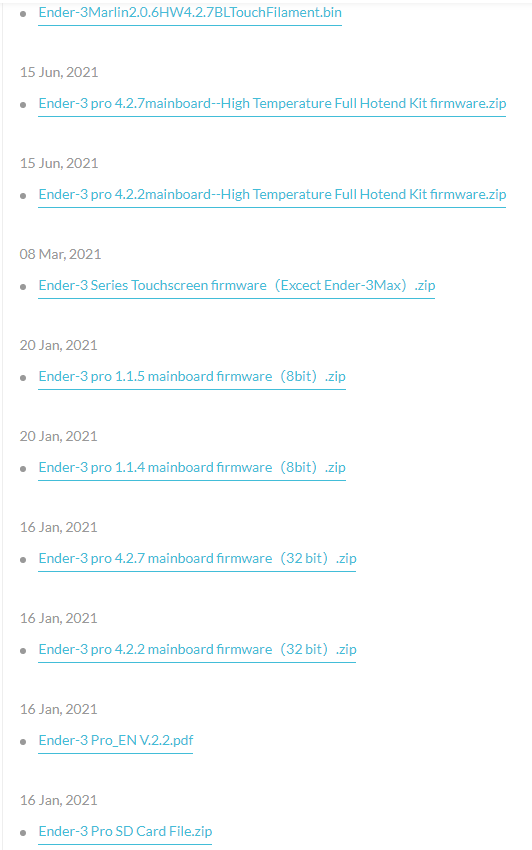 As you can see it has a ton of things that we can download, but we are here to the firmware.
PAY EXTREMELY ATTENTION
Again in this article is about the V4.X.X boards so you need to download the 32 bit in brackets files.
if your printer is stock, Select the" 'x' 4.X.X mainboard firmware (32 bit). zip "
BUT REMEMBER to check the version of your motherboard, V4.2.2 or V4.2.7, and match it with the names of the files to download.
if your printer has some add-ons on it you can check on the other files to download it.
Now you can simply extract the bin file to an folder and go to next step.
3- Format Your SD Cards
For your 3D printer can check the file for update you need to make the .bin file that you downloaded be the only thing in you SD Card, so you need to format it.
It's simple, you can you windows to do it:
3.1 - Select you SD Card in Your computer

Right click it and select Format..
3.2- Configuration
Next you need to select 4096 bytes on Allocation unit size, press ok and you are done!
3.3 - Now you can just drag your .bin file that has your firmware.
4- Now the happy part
After all this steps now i recommend first you to turn off you 3D printer, and insert your SD Card on the slot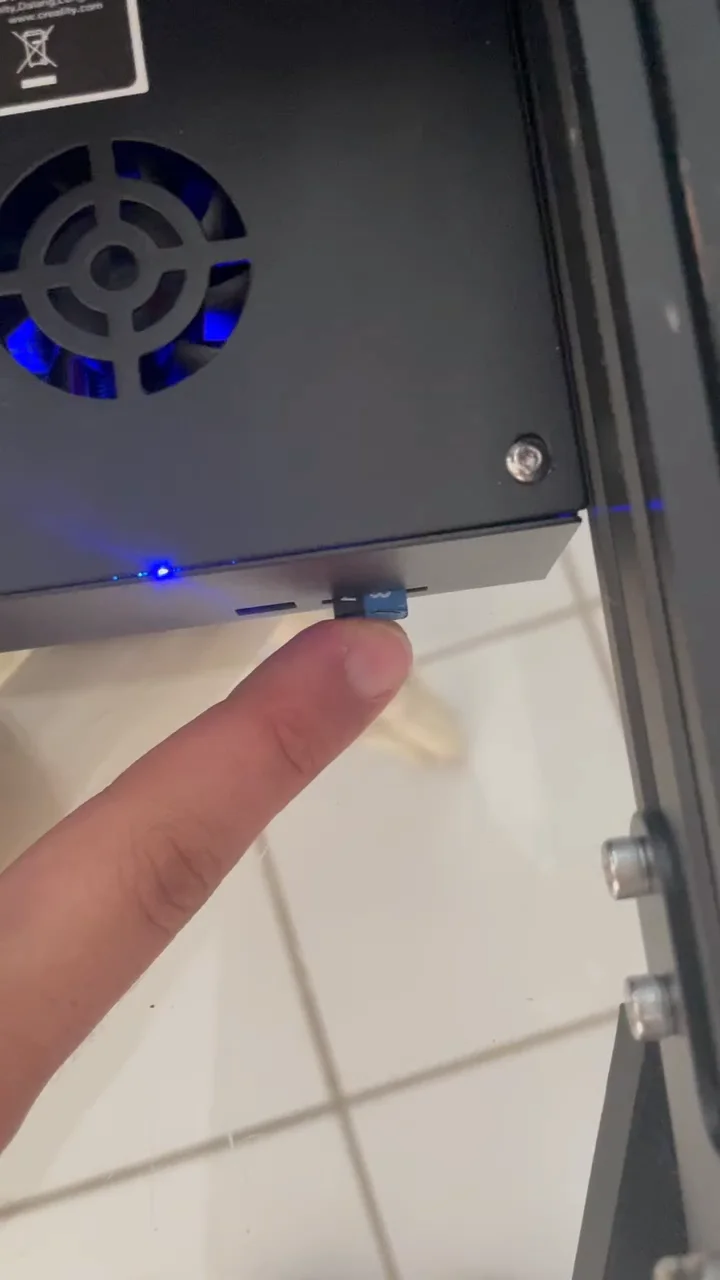 (image not mine, just representation)
if you did all the things correctly, Next the screen will be blank, because your motherboard is updating your firmware, wait until the Ender Logo starts and you are DONE!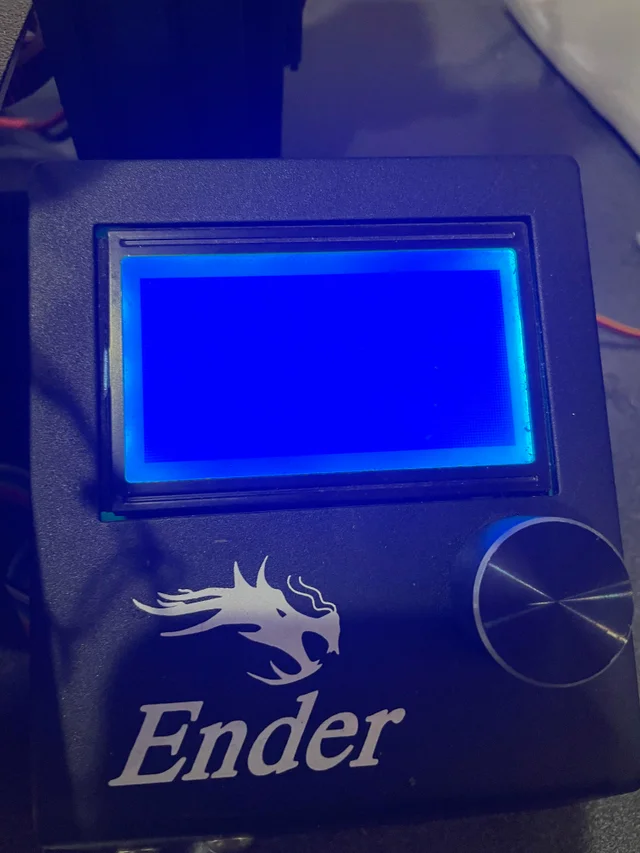 (image not mine, just representation)
Now you finally update your V4.X.X Creality motherboard firmware successfully!!
hope you guys like this article, made to help many people that i think it could have same problem or want to update your creality printer.
Hugs,
Arthur feijó
aka, Tuka Customs