How To Re-Flash Firmware (Pt2)


Follow
DeJavu?
I've been asked to write a further tutorial for this process as some users aren't necessarily familiar with downloading software, writing files to SD cards etc. I'm always happy to help if I can, so let's take another look at how to do this.
As I said before, you don't need to update firmware if your printer is working OK. However, its sometimes unavoidable and the latest version of the firmware may not actually work properly. In this case, it may be worth reverting to the previous version that did work.
Now, Creality won't have previous firmware version available for download so you'll need to go elsewhere. Creality, along with virtually every other manufacturer, uses Marlin firmware for all its machines so we'll need to find an older release of that.
I've been asked by users which sites I'd recommend, but its difficult to do that if I haven't used them myself. So lets look at a site I have used: Github. This site is popular among many users and actually holds all versions of Marlin so it should be fairly easy to find the one you need. The first thing is to obviously go to the Github site here:
https://github.com/MarlinFirmware/Configurations
Opening this gives you the following page: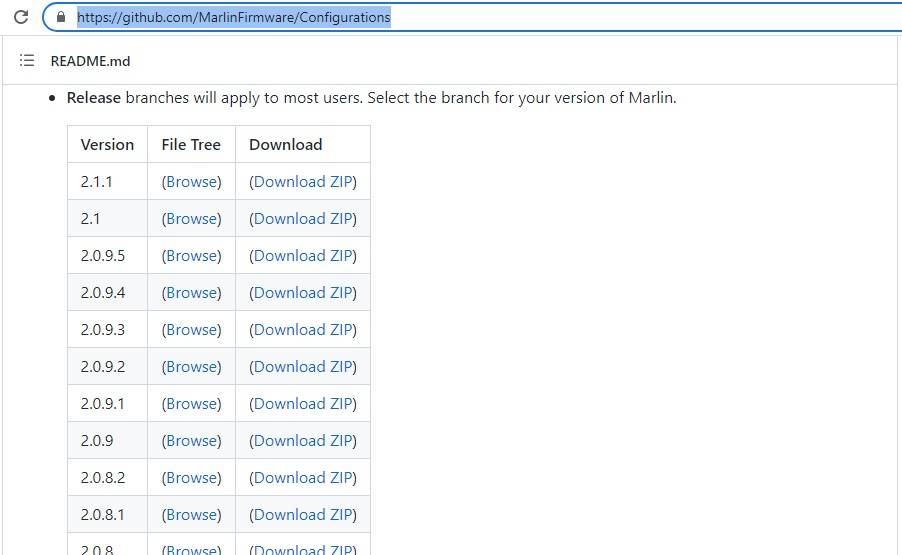 We'll assume in this case that you only want to revert to the previous release but of course, you could go further back if you wanted. So, selecting "Configuration 2.1 " will download a zip file and if you find the "Downloads" file on your PC, it should look something like this: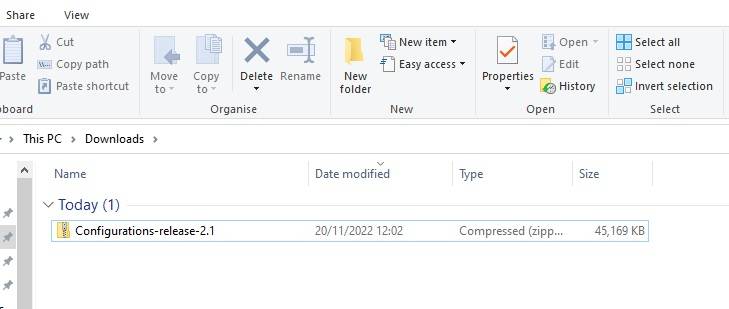 Select the zip file by clicking once and it should show the following screen. You'll see that there is the option to "extract" (indicated by the green arrow) so click on that.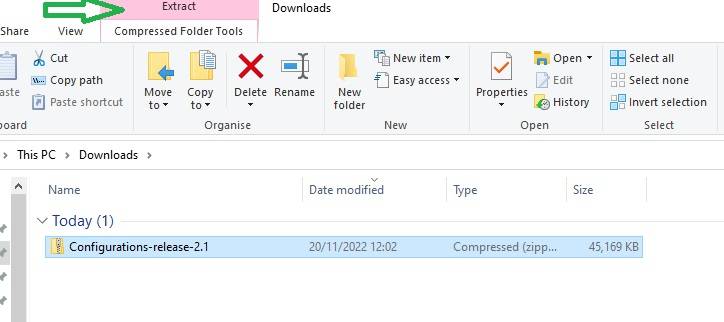 Next, double click on "extract all" as in the following image:

This will take you through some options but basically select "OK" for all of them and the file will start to extract. You'll see then that you have a new folder in your downloads that you can double click to open


Open up this folder and you'll be presented with a list of printers brands. We're obviously going to select Creality in this case but the process is the same for any of the printers in the list.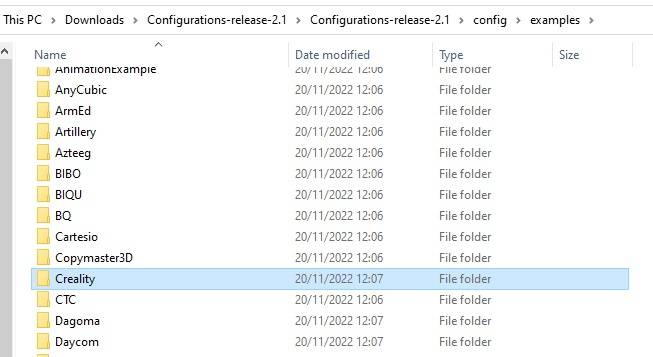 After you've opened the Creality folder, select your printer from the list shown: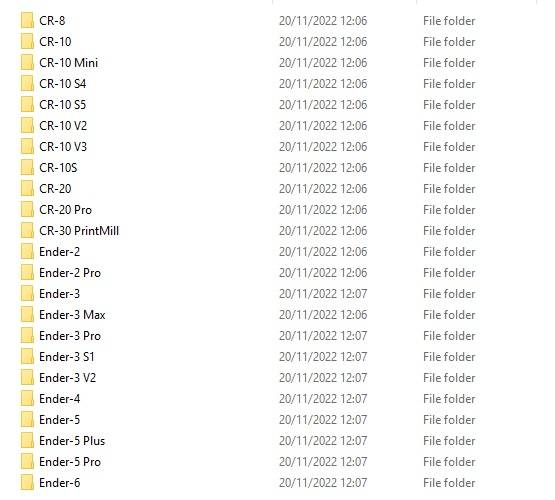 In this example, I've gone for the Ender 3. You'll see that once you've opened that folder, you'll then be shown a list of possible mainboards that are compatible with the Ender 3. I've selected the Creality V422: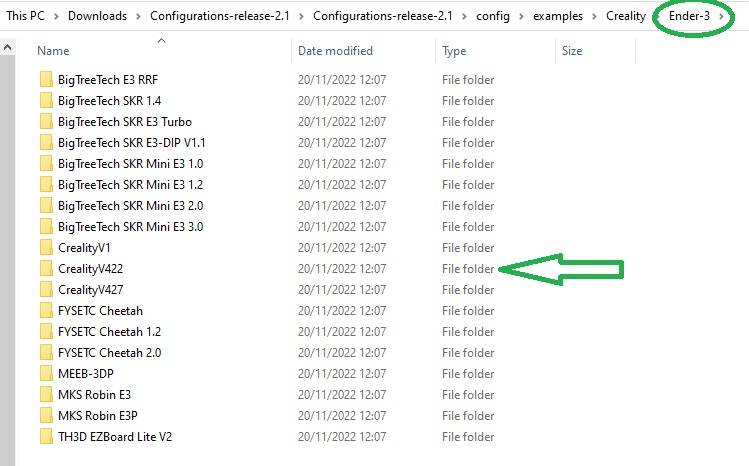 Open that folder and then select the "Configuration" and right click on it. This will bring up a drop down menu as shown below. We need to select "send to" and then find the SD card which should have already been inserted into your PC. In my case I've named it "Glenda" but you can call it what you want: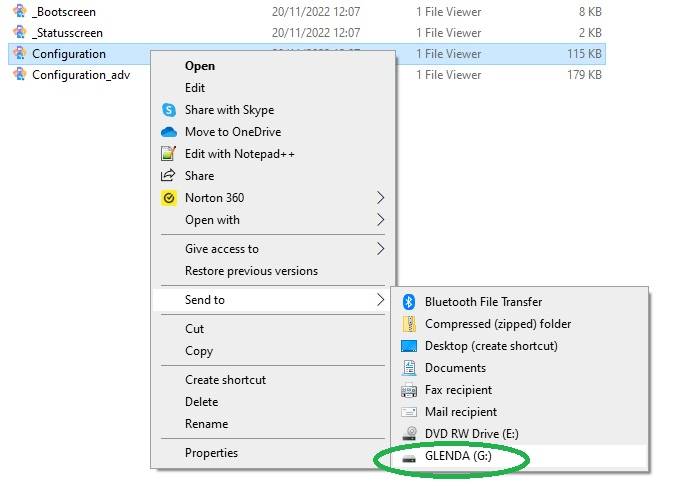 Now, we may need to go back a step if, like mine, your SD card has other file already on it. If that's the case then you'll need to format it to "FAT32". This is the default format code that comes up so no need to select it. A warning will show to say that all files will be deleted so if the ones on the disk are needed, it may be worth saving them elsewhere: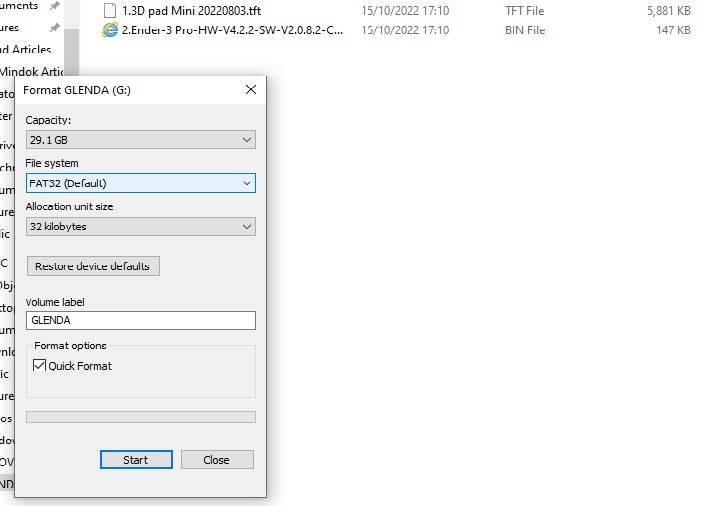 Once you've formatted the card and sent the firmware file to it, you need to rename the file to "Firmaware" and ensure it's the only file on the disk:

You then need to "eject" the card. This is very important as is you just manually remove it without ejecting first, it could corrupt and basically make the card unusable: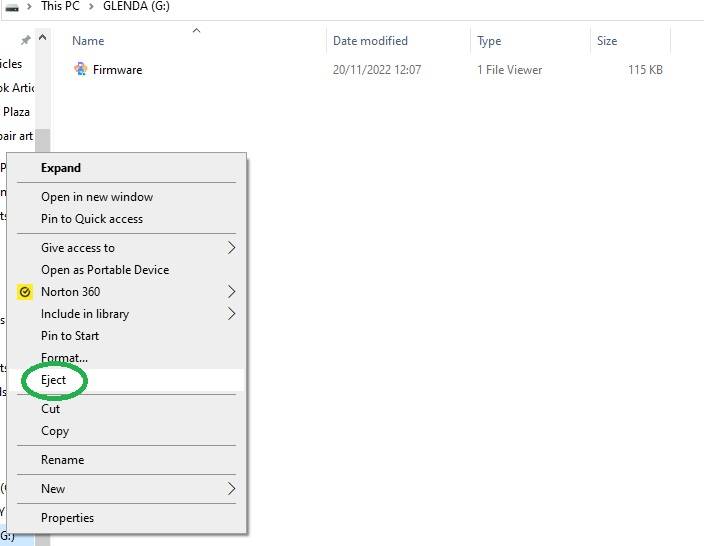 So, that's it from the point of view of getting the firmware file onto a SD card. The next stage is the same as we went through in Part 1 of this tutorial but to recap:
Make sure the printer is powered "off"
Insert the micro SD card with the firmware file on it into the slot at the front of the printer
Power up the printer and wait for it to come on and show the normal, expected working appearance
And there we have it.
I hope that's been helpful to some of you but if you have any questions or need help of any kind with 3D printing related issues, then you can message me @Mitch1967. Alternatively. just add the "Help" tag to your post and I will see it and try to answer ASAP.
Thanks for reading this and remember; stay well, stay safe and always keep a level bed!
Other contents of the portfolio