Creality Cloud New Release V4.14


Follow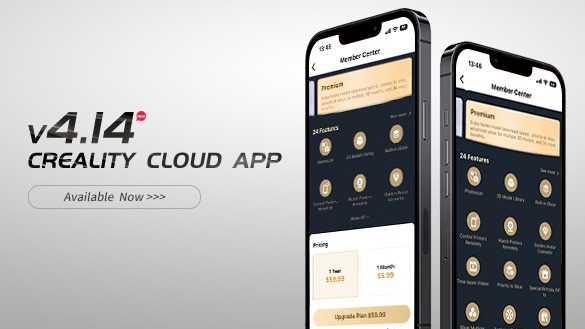 Hello, 3D printing hobbyists,
It's time to update your Creality Cloud app! In this release of Creality Cloud V4.14, we mainly concentrate on making an update of our Premium plan service, bringing you new benefits to improve your premium experience on Creality Cloud. Read on to find out what's new.
What's new
New benefits added for Premium users:
1. Priority to slice 3D models
Get the priority to slice 3D models without a long time waiting.
2. Faster model download speed
Speed up the process of model download and save more time.
3. Extra permission to control more 3D printers
Get extra permissions to add and control more 3D printers. You can distribute your print job by controlling up to 20 printers on the Creality Cloud website.
4. Advanced slicer for multiple 3D models
Use the advanced built-in slicer to slice multiple 3D model groups at a time
5. Special birthday gifts
Receive an exclusive special gift on your birthday.
Note: A user can only receive a birthday gift per year.
6. More entries for the lucky draw
Get more free entries month to try your luck and draw out a prize. You got 1 more entry for a monthly subscription, and 12 more entries for a yearly subscription.
7. Opportunity to re-check in
Obtain an opportunity to re-check in the days you forgot to check in Creality Cloud. You got extra rewards for check-in on specific days.
8. Exclusive products and discount
Redeem premium exclusive products in the Gift Shop with a huge discount.
Bugs fixed and performance improved.
Download Today
Take a look at the new version that will really revolutionize your print quality. Click on the link in the description below and be sure to download it.
Download links
iPhone & iPad: https://tinyurl.com/iOSCreality
Android: https://tinyurl.com/CrealityAndroid
Leave a Comment
We'd like to thank you if you leave a comment below to give us feedback or report any problems or bugs that you've come across blow.
In addition, when adding these amazing features for you, we made some changes to your cloud storage and are planning to update the price of the premium service on January 1st, 2023. Click here to learn more.
Upgrade your plan now to get a better Premium experience!
By Creality Cloud