[Winners Announced] [Round 10] Creality Cloud Leaderboard Contest

Follow
Update as of Dec 5, 2022 - Winners Announced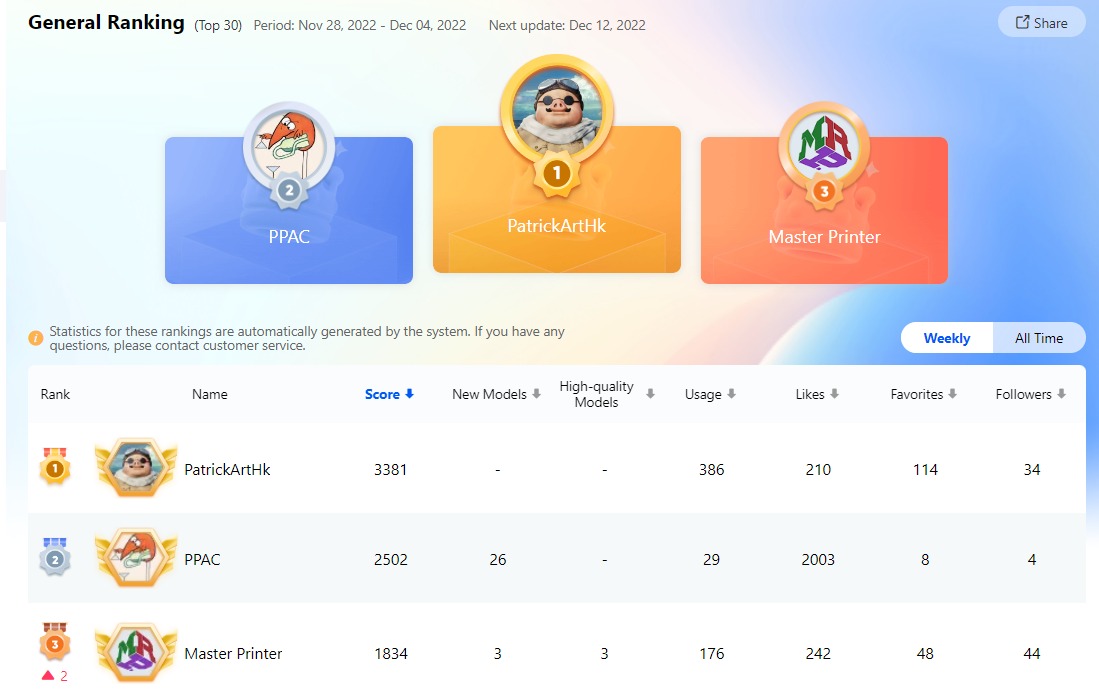 Congratulations to @PatrickArtHk on winning the championship and will be awarded 2,000 Cuvacoin! With runner-up @PPACand @Master Printer 3rd place, each being awarded 1,500 Cuvacoin and 1,000 Cuvacoin respectively!
Thank you for everyone who participated in the contest. Don't be too discouraged if you didn't finish in the top 30 as another round of Leaderboard Contest is on the horizon! Stay tuned.
Update as of Dec 2, 2022 - Below is the current list of the top 50 finalists! The list is subject to change, so please continue to upload models, grow your followers, get even higher score to win the prizes!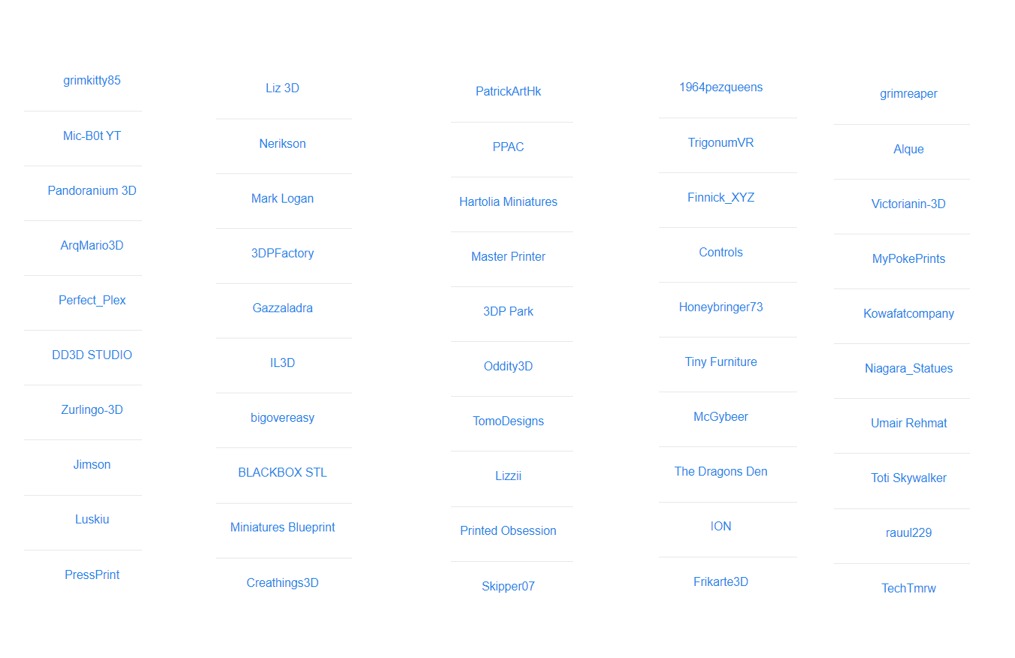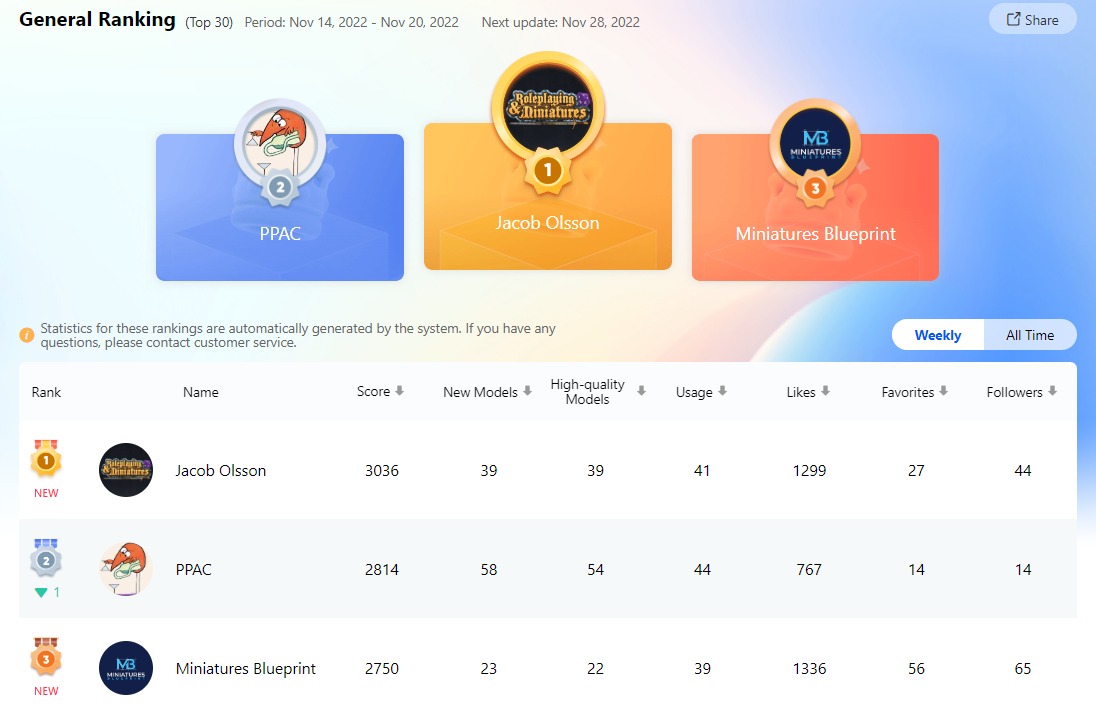 Designers, creators, and users are all essential to Creality Cloud's amazing 3D printing community. We decided to show how much we care and value our 3D printing community by hosting this exciting weekly contest.
The Creality Cloud Leaderboard features a new score system. Users can monitor their score and rank each week. All stats will be tracked daily by the leaderboard.

The rankings are updated every Monday. All user score will be reset to zero every Monday and the calculation will start right away.
To win prizes from Creality Cloud, all you have to do is trying to finish in the top 30 on the Weekly Leaderboard!
⏱️Contest Schedule
Nov 28 0:00 - Dec 4 23:59 (UTC+8)
❓How to enter
It takes only 1 step to join the contest - ⏫UPLOAD YOUR 3D MODELS
Where to get models to upload? You have 2 options:
a) Design and upload your own model
b) Upoload models you find on the internet but you must strictly follow the copyright agreement (e.g. Creative Commons License) to share them
Prize: Cuvacoin
🥇Champion: 2,000 Cuvacoin
🥈Runner-up: 1,500 Cuvacoin
🥉Third place: 1,000 Cuvacoin
❤️Honorable mention:
4th-10th: 800 Cuvacoin
11th-20th: 500 Cuvacoin
21st-30th: 300 Cuvacoin
If the score of the 30th place exceeds 1,000, the cuvacoin reward for the top 30 participants will be doubled!
🧮How is the score calculated?
- Upload new models*: +10/model (extra +20 if model is featured)
- Models** printed by others: +10/print
- Models** sliced by others: +8/slice
- Models** liked by others: +1/like
- Models** downloaded by others: +5/download
- Models** favourited by others: +4/favorite
- New followers: +3/follow
Please note:
All scores are calculated in the current week.
*Models uploaded between Monday and the following Monday are regarded as "new models".
**Models uploaded at any time are valid.

It's time to upload models and enjoy yourself since the Creality Cloud Weekly Designer Contest is officially open! Join now before it's gone! Sign up for an account on Creality Cloud if you haven't yet.

📑Terms & Conditions
Winners and their models may be used in advertising.
Anyone who attempts to manipulate the leaderboard will be banned forever.
Creality Cloud reserve all the right for the final explanation.
Other contents of the portfolio